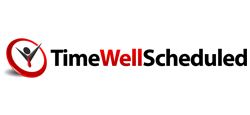 What is it?
TimeWellScheduled is a fully tailored secure online time and attendance system with employee scheduling and payroll export that enhances your workforce management capability.
Who is it for?
Any company (large or small) who is looking for a solution to track employee schedules and quickly and easily manage timecards and payroll.
Why use it?
TimeWellScheduled will help your company save money by making employees more accountable for YOUR time, and by reducing scheduling and payroll admin time.

Earn 500 Bonus AIR MILES® reward miles when you sign up for TimeWellScheduled for a minimum of  three months.
* from as little as $48/month
 ® TM Trademarks of AIR MILES International Trading B.V. Used under the license by LoyaltyOne, Inc. and Nerds On Site Inc.